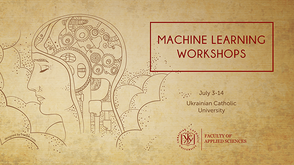 Studies
Machine Learning Summer Workshops
Machine Learning Summer Workshops are organized by Faculty of Applied Science at Ukrainian Catholic University. Workshops' participants — young professionals, students, Ph.D. candidates — will study the methods of the machine learning in the problem domains of Computer Vision, Natural Language Processing, and Reinforcement Learning.
The workshops are all problem-oriented, i. e. study process will be based on the real-world problems and their solutions via machine learning approach. The participants will gain solid theoretical knowledge as well as a lot of practical work.
Please notice that participants' knowledge and skills level should be intermediate or higher. The students have to be familiar with the basic machine learning methods.
There are will be three totally independent workshops (two of them go simultaneously). You may apply for one or two workshops. The information about particular workshops can be found on separate web pages. Below there are the brief descriptions, lecturers, price and terms information.
Computer Vision workshop, July 3-7
Part 1. Statistical Decision Theory in Computer Vision, Structural Prediction, and Learning
Part 2. To be announced soon…
More information on the Computer Vision workshop web page.
Lecturers
Alexander Shekhovtsov, Ph.D.,Researcher at Center for Machine Perception, Prague
Kostiantyn Antoniuk, Engineer at Augmented Pixels
Natural Language Processing workshop, July 3-7
Key topics:
Word and document representations
Text classification models
Language modeling
Semantic similarity analysis
Sequence-to-sequence modeling
More information on the Natural Language Processing workshop web page.
Lecturers
Vsevolod Dyomkin. NLP expert, Co-founder of the lang-uk project
Yuriy Guts, Machine Learning Engineer at DataRobot
Reinforcement Learning workshop, July 10-14
Key topics:
Bandit algorithms
Markov decision processes
Model-free control
Value function approximation
Policy gradients
Deep reinforcement learning
More information on the Reinforcement Learning workshop web page.
Pablo Maldonado, Ph.D., Applied mathematician and data scientist consultant Czech Technical University, Prague
| | | |
| --- | --- | --- |
| Option | May | June |
| Only one workshop (NLP / CV / RL) | 6 000 UAH | 7 500 UAH |
| Two workshops (NLP & RL / CV & RL) | 9 500 UAH | 11 000 UAH |
Contacts
In case you have any questions, please contact us via
● Email: lvcs@ucu.edu.ua
● Facebook: www.facebook.com/ucucsds
Apply here: goo.gl/MvZH43!